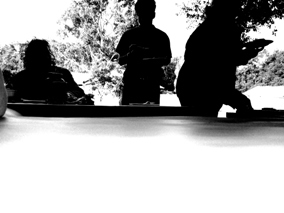 Lately I've been thinking about being church in ordinary life, prompted by some changes in Sanctify (a ministry I help lead) and, most recently, by Alan Knox's new series.  I am theoretically convinced–meaning, I intellectually grasp the notion and the benefits.  I am also practically confused–meaning, I've very little clue about how to begin.
Some of the confusion stems from nearly five decades in the institutional church. (And, for the readers' information, I'm not knocking the institutional church.  I am called to and serve in an institutional church.)  The institutional church, with its published calendars and program offerings, seems to have made unnecessary nearly all notion of personal responsibility for being church: the professional staff takes care of all that.
So, as Sanctify ventures forth on a new journey, I and my fellow dreamers are left scratching our heads, trying to figure out how we are to be and what that means for our local congregation.  The first issue that comes to mind is what might be holding us back.
Thinking about my own life, I have discovered that my biggest hurdle to being church in ordinary life is my schedule.  Monday through Friday, I am on a bus at 5:30 AM and do not return home until 7:30 PM at the earliest.  Saturday mornings are filled with homework and Sunday mornings are the scheduled gatherings of the church.  Not much time is left for being church face-to-face in ordinary life.
Nevertheless, some gatherings do fit in to this packed schedule.  This past Friday night, eight of us enjoyed our monthly dinner at Il Fornaio's Festa Regionale.  Saturday night, a bunch of folks from TFB and beyond celebrated at a wedding shower for a young couple that is to be married in a couple of weeks.  Sunday morning, the Sanctify dreamers enjoyed our weekly breakfast at Rudy's in downtown Torrance.
It was over our breakfast at Rudy's that the busyness factor–and the concomitant peer-connection factor–was made explicit.  As we read Alan Knox's post, Church Life #1, we were made aware just how difficult face-to-face dailiness would be for us.
So, now we are left with some creative thinking:

How can we make real, ordinary connections in the context of lives that cannot yet be uncluttered?
What do you think?