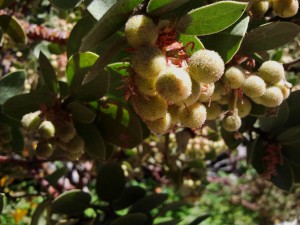 In 2009, our church's motto was, "Passionately pursuing spiritual growth in Christ." For most of the year, I thought this was a very good motto. On the Sunday that my mind changed, I sat in my normal spot doing my normal activity: interacting with the sermon. As I pondered and wrote, I began to wonder whether we should be pursuing spiritual growth. The more I pondered, the closer I came to a negative answer: spiritual growth is a result and, therefore, an inadequate object of pursuit.
Spiritual Growth is a Result
The image of spirituality as fruit bearing runs throughout the New Testament.  A small sampling of passages (emphasis mine) hints at the cause-effect sequence at work here.
I am the vine; you are the branches.  Whoever abides in me and I in him, he it is that bears much fruit, for apart from me you can do nothing. (John 15:5 ESV)

Likewise, my brothers, you also have died to the law through the body of Christ, so that you may belong to another, to him who has been raised from the dead, in order that we may bear fruit for God. (Rom 7:4 ESV)

But the fruit of the Spirit is love, joy, peace, patience, kindness, goodness, faithfulness, gentleness, self-control; against such things there is no law. And those who belong to Christ Jesus have crucified the flesh with its passions and desires. (Gal 5:22-24 ESV)

And so, from the day we heard, we have not ceased to pray for you, asking that you may be filled with the knowledge of his will in all spiritual wisdom and understanding, so as to walk in a manner worthy of the Lord, fully pleasing to him, bearing fruit in every good work and increasing in the knowledge of God. (Col 1:9-10 ESV)
In each case, fruit is the result of connection with Christ and the connection has nothing to do with our effort. No amount of pursuit on our part will connect us with Christ. It may be that "pursuit" is altogether the wrong term, for it does not bear the same connotation as "abiding," "belonging," and "filling." This does not imply lack of effort on our part, for as Paul says in Philippians 2:12, we are to work out the salvation that God has put it. But, this cannot occur by our own effort: "for apart from me you can do nothing." Just as fruit is the natural result of the wholeness of the plant, so also is spiritual fruit the natural result of the wholeness of each person and each community in Christ. The plant's attention to life produces its fruit. The Christian's attention to Christ, our life, produces spiritual growth.
Christ as First Love
Love reprioritizes our way of thinking. As our first love, Christ holds the highest place and is our ultimate end. The more we love him, the more we begin to consider all else as loss in order to gain him; Christ becomes the one for whom we act. Our love for him actualizes presence (Christ in me and I in Christ (John 15) by developing relational knowledge of Christ's person, experiential knowledge of his resurrection power, and participatory knowledge of his sufferings (Phil 3).  Our identity as persons and as community is directly tied to the subject of our first love: Christ. We are Christians inasmuch as we are in relationship with our first love, Jesus Christ, and this relationship is safe in his hands and in the Father's hands (John 10:29-30).
Original version was published in October 2009. This is a rewrite.